More Campus Violence Against Life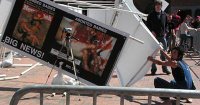 BELLINGHAM, WA, May 3, 2006 (
LifeSiteNews.com
) - A Western Washington University pro-life club's display was virtually destroyed by yesterday afternoon by a bare-foot male student who was photographed and videotaped as he dismantled the display. After spending more than three hours playing his guitar and observing the campus-approved display, the Asian male began to tape newspapers over one of the perimeter signs that warned students they were approaching the display.
The student was then observed leaping over the perimeter
barricade that surrounded the display. Pro-life students, out of respect for his person, did not physically interfere as the vandal proceeded to systematically tear down the entire display. Their first concern was for the safety of several small children inside the display area who were quickly moved to safety.